Unleash the Magic of Astoria: 22 Must-Do Activities to Experience in this Enchanting Coastal Town
Have you ever found yourself daydreaming about a quaint town by the sea? Astoria, Oregon, might just be the answer to your wanderlust. But before you plan your trip, did you know there's more to Astoria than meets the eye?
From its intriguing history to its unique attractions, this charming town has plenty of surprises in store.
So, buckle up and get ready to be amazed by the activities waiting for you in Astoria.
Oldest American settlement west of the Rocky Mountains
Get ready to travel back in time with these fascinating facts about Astoria's history and landmarks! Did you know that Astoria is the oldest American settlement west of the Rocky Mountains?
That's right; this charming city was founded way back in 1811 by John Jacob Astor's Pacific Fur Company, which had big plans to establish a fur trading post in the area. It's hard to imagine what life was like in those early days, but you can still catch a glimpse of the city's past by visiting some of its most iconic landmarks.
Astoria-Megler Bridge
One of the most impressive of these landmarks is the Astoria-Megler Bridge, which spans the mighty Columbia River and connects Astoria to Washington State. This massive structure is the longest continuous truss bridge in North America, and it's a sight to behold.
Astoria Column
Speaking of sights to behold, you won't want to miss the Astoria Column, a 125-foot-tall tower that was built in 1926. The view from the top is simply breathtaking, and the spiral staircase that leads to the observation deck is a fun adventure in itself.
Flavel House Museum
If you're a fan of historic homes and architecture, be sure to visit the Flavel House Museum. This Queen Anne-style mansion was built in 1885 and was once the home of Captain George Flavel, a prominent businessman, and civic leader in the city.
The museum is a treasure trove of Victorian-era artifacts and memorabilia, and it's a must-see for anyone interested in Astoria's rich history.
Astoria's culture and events
Did you know that Astoria is a vibrant coastal community rich in culture? Astoria offers a wide variety of events and festivals throughout the year.
Whether you're interested in Scandinavian culture, classical music, fresh seafood, or anything in between, there's an event in Astoria that's sure to capture your imagination.
Scandinavian Midsummer Festival
Get ready to immerse yourself in the rich traditions and vibrant culture of the Scandinavian countries at the legendary Scandinavian Midsummer Festival in Astoria!
This festival is a must-visit event that is truly a feast for the senses. With an incredible lineup of live music and dance performances, you'll be tapping your feet and swaying to the rhythms of Scandinavia.
That's not all – indulge in the authentic flavors of traditional Scandinavian cuisine and be dazzled by the incredible crafts and artwork on display. This festival is the perfect way to experience a new culture and have a blast while doing so!
Astoria Music Festival
The Astoria Music Festival is a two-week-long festival, a musical extravaganza featuring the very best of classical and jazz music in a variety of stunning venues throughout the city.
From intimate chamber music performances to grand orchestral concerts, the festival has something for every music fan. Prepare to be swept away by the magical sounds of world-class musicians and experience the beauty of music in a way that you've never experienced before.
Astoria Sunday Market
If you're a foodie, Astoria has you covered as well. The Astoria Sunday Market is a popular weekly event that takes place from May to October. It features over 200 vendors selling everything from fresh produce to handmade crafts, as well as a variety of food vendors serving up delicious meals and snacks.
Crab, Seafood, and Wine Festival
Prepare to have your taste buds transported to a seafood lover's paradise at the highly-anticipated Crab, Seafood, and Wine Festival in Astoria! If you're a fan of fresh seafood and local wines, this is the event you simply can't miss.
As the birthplace of the legendary Dungeness crab, Astoria takes its seafood seriously, and this festival is the perfect opportunity to indulge in some of the most mouth-watering seafood dishes made from the freshest ingredients.
Pair your meal with a glass of local wine, and you'll take your culinary experience to a whole new level. And if that wasn't enough, the festival also features live music to add to the already incredible atmosphere.
Astoria's natural beauty
Get ready for a feast for the senses with the natural beauty of Astoria! This charming city is nestled right where the Columbia River meets the powerful Pacific Ocean, creating a spectacular and awe-inspiring backdrop that is simply breathtaking.
With the stunning Oregon Coast to the west and the breathtaking Columbia River Gorge to the east, Astoria is surrounded by some of the most jaw-dropping natural scenery in the entire Pacific Northwest.
Columbia River Bar
Buckle up and get ready for an adventure like no other with Astoria's Columbia River Bar! This natural wonder is known as one of the most dangerous waterways.
It's thrilling to see the Pacific Ocean's powerful waters meet the Columbia River's wide expanse. The Columbia River Bar's sheer power and force will take your breath away as you witness waves up to 40 feet high crashing against the bar.
Columbia River Gorge
The Columbia River Gorge is another natural wonder near Astoria that's definitely worth exploring. This awe-inspiring gorge is carved by the mighty Columbia River and features cascading waterfalls, towering cliffs, and breathtaking views at every turn. It's a paradise for hikers, bikers, and anyone who loves to explore the great outdoors.
Astoria's food and drink scene
Get your taste buds ready for a wild ride because Astoria's food and drink scene is about to take you on a flavor journey you'll never forget! Thanks to its location on the Pacific Ocean, Astoria is famous for its fresh seafood, particularly the famous Dungeness crab.
Fresh seafood, particularly Dungeness crab
From casual seafood shacks to high-end seafood restaurants, Astoria's food scene has something for everyone who loves seafood. The dishes will leave your mouth watering in anticipation.
Local breweries and taprooms
Seafood is not the only thing Astoria has to offer. Astoria also boasts a thriving craft beer scene, with several local breweries and taprooms offering a diverse selection of refreshing beers made from the finest Pacific Northwest ingredients.
Pacific Northwest Brew Cup
Calling all beer lovers! The Pacific Northwest Brew Cup is the ultimate event to satiate your thirst for the best craft beer around. This festival brings together some of the top breweries from across the Pacific Northwest, giving you a chance to sample an incredible variety of delicious brews that will have your taste buds dancing with excitement.
Whether you prefer hoppy IPAs or rich stouts, the Pacific Northwest Brew Cup has something for everyone. So gather your friends and get ready for a beer-filled weekend where you can enjoy the best of what the Pacific Northwest has to offer in the world of craft beer.
This festival isn't just about the beer either, with live music, food, and other exciting activities to keep you entertained while you savor the amazing brews.
Astoria's attractions and activities
Astoria has something for everyone, from history to adventure to culture. Let's explore a few activities in Astoria.
Columbia River Maritime Museum
The Columbia River Maritime Museum takes you on a thrilling journey through the Pacific Northwest's maritime history. This museum boasts interactive exhibits, hands-on displays, and a stunning collection of artifacts and photographs.
Peter Iredale shipwreck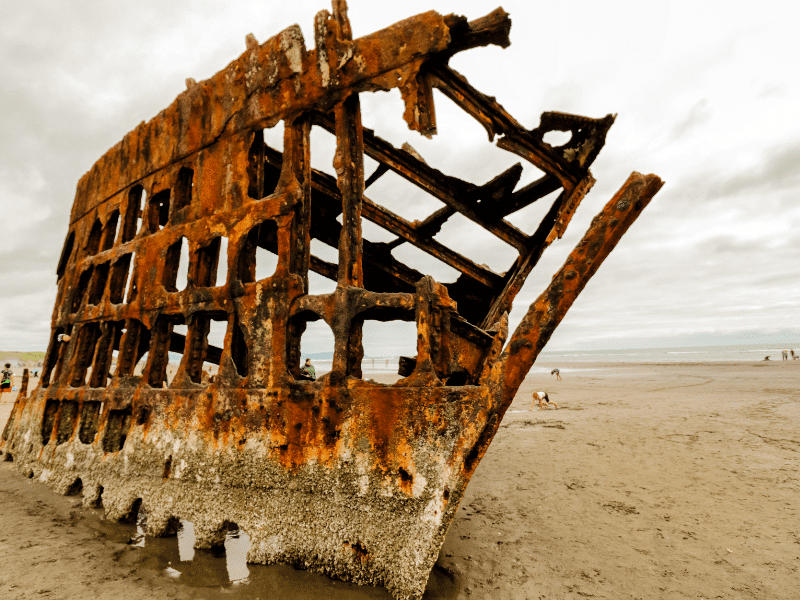 No trip to Astoria would be complete without visiting the Peter Iredale shipwreck! This historic shipwreck has been an iconic fixture on Astoria beach for over a century, captivating visitors with its fascinating history and incredible photo opportunities.
Astoria Riverfront Trolley
Looking for a way to explore Astoria in unparalleled style and comfort? Look no further than the Astoria Riverfront Trolley! This vintage trolley is a unique experience that takes you on a picturesque journey through Astoria's most iconic sights, offering you the opportunity to fully bask in the beauty of the city.
With its classic design and charming ambiance, the trolley is more than just a mode of transportation – it's an experience in itself. Take in the breathtaking views of the city's riverfront as you travel in style and luxury, and let the sights and sounds of Astoria's culture and history unfold before your eyes.
Liberty Theater
Are you yearning for a night of enchanting entertainment that'll whisk you away to another world? Look no further than the Liberty Theater, where you'll be captivated by an array of breathtaking performances ranging from electrifying live music to awe-inspiring theater productions.
With its rich and fascinating history spanning over 90 years, the Liberty Theater is a local gem symbolizing Astoria's vibrant and thriving arts scene. Its iconic marquee and grand architecture set the stage for an unforgettable night of entertainment that will immerse you in the magic of the arts.
Staying at Astoria's Cannery Pier Hotel
When it comes to finding a truly unique and memorable place to stay in Astoria, the Cannery Pier Hotel is definitely a standout choice!
Situated on a historic pier overlooking the mighty Columbia River, this luxury hotel offers stunning views of the water and the iconic Astoria-Megler Bridge.
Views and Experience
But it's not just the views that make the Cannery Pier Hotel special – it's the experience. This remarkable hotel provides a front-row seat to the city's bustling waterfront and the natural beauty of the Pacific Northwest.
From the charming decor that reflects the area's rich history to the luxurious amenities that ensure a comfortable stay, the Cannery Pier Hotel is truly a one-of-a-kind destination.
Astoria's outdoor recreational opportunities
Astoria's outdoor recreational opportunities are truly something special, offering everything from scenic walks along the Astoria Riverwalk to adrenaline-pumping kayaking trips on the Columbia River.
Astoria Riverwalk
The Astoria Riverwalk winds along the city's waterfront and offers breathtaking views of the Columbia River and the iconic Astoria-Megler Bridge.
This trail is perfect for a leisurely walk or a heart-pumping bike ride. The trail provides easy access to some of the most popular attractions in Astoria.
Fort Clatsop
For history buffs, Fort Clatsop is a National Historic Park that preserves the site of the Lewis and Clark Expedition's winter encampment in 1805-06.
Visitors can explore the fort's reconstructed buildings and learn about the incredible journey of the Lewis and Clark Expedition, all while enjoying the natural beauty of the park's forests and wetlands.
Hiking, fishing, and kayaking opportunities
Astoria offers numerous trails that wind through the verdant Pacific Northwest forests, offering stunning vistas and breathtaking scenery that will leave you spellbound. For those looking to cast a line, Astoria has numerous fishing spots that will thrill anglers of all skill levels.
There's nothing quite like kayaking on the Columbia River. You'll be awed by the sheer scale and power of the river as you glide past cliffs and historic landmarks, all while surrounded by the natural beauty of the Pacific Northwest.
Astoria's role in popular culture
Get ready to step into the world of Hollywood when you visit Astoria, the legendary filming location of the cult classic movie "The Goonies"! Fans of this iconic film will be thrilled to explore the city that served as the backdrop for some of the most memorable scenes of this beloved 80s adventure movie.
Filming location for "The Goonies"
As you wander through Astoria's charming streets and historic buildings, you'll be transported back in time to the thrilling world of Mikey, Chunk, and the rest of the Goonies gang. You can visit the filming locations and relive your favorite scenes, from the famous "Goonies Never Say Die" moment to the final showdown with the Fratellis.
And if you're really feeling adventurous, you can even take a guided tour of the locations used in the film, complete with behind-the-scenes stories and fascinating trivia about the making of this cinematic gem. It's an experience that no Goonies fan should miss!
Astoria's thriving arts scene
Prepare to be wowed by Astoria's vibrant arts scene! This city is a hub of creativity, with a thriving arts culture that features a diverse range of galleries, theaters, and arts organizations. Whether you're into contemporary art, traditional crafts, or something in between, Astoria's galleries have something to offer, showcasing a wide array of artistic styles and mediums.
As the sun sets, the city's theaters come alive with a plethora of performances, including live music, comedy, theater productions, and film screenings, offering an immersive and unforgettable arts experience. And if you're feeling inspired, Astoria's arts organizations offer classes and workshops, allowing visitors to learn and explore new artistic mediums or perfect their skills.
Astoria's Top Activities
There you have it – a list of the top activities to participate in while in Astoria, Oregon. This coastal town offers a treasure trove of unique experiences, from hiking in the lush rainforests to exploring the charming downtown district.
Whether you're fascinated by history or captivated by natural beauty, Astoria has plenty of activities that will leave you breathless.
To discover even more about this amazing town, be sure to check out our list of 20 surprising facts about Astoria.