Depoe Bay: The Best Place in Oregon to Whale Watch
Have you ever wondered where the best place to whale watch is?
Maybe you are like most locals who wait anxiously to receive that text message saying where the Orcas are today?
If so, read this article to find out what locals say is the best place to spot whales and why this is.
Depoe Bay: The Best Place in Oregon to Whale Watch
Oregon is known for its natural beauty, and one of the best ways to experience that beauty is by whale watching.
The tiny town of Depoe Bay is widely considered the best place in Oregon to go whale watching, thanks to its prime location and abundance of whales.
Whether you are a first-time whale watcher or an experienced enthusiast, Depoe Bay is worth visiting.
Here is what you need to know about Depoe Bay and whale watching in Oregon.
Depoe Bay
Depoe Bay is considered the best place in Oregon for whale watching for a few reasons.
The town is situated on a natural whale watching platform- a high rocky bluff that provides an ideal vantage point for spotting whales as they migrate along the Oregon Coast.
Depoe Bay is home to whale-watching vessels, and it is equipped with hydrophones, which allow visitors to listen to the vocalizations of the whales as they swim by.
The staff at the Whale Watching Center are experts in identifying and interpreting whale behavior, and they are always willing to share their knowledge with visitors.
As a result, a trip to Depoe Bay is an educational and memorable experience for everyone in the family.
Whale Watch Without Leaving the Shore
There are several ways to enjoy whale watching without leaving the shore.
These ways include
watching from the shoreline to see if you can spot the whales
head to a museum that talks about whales
Watch whales from the comfort of your own home by finding websites or apps that offer live streams or recordings of whale activity.
Tips for First-Time Whale Watchers
Whale watching can be a fun and rewarding experience for people of all ages. If you are planning to go whale watching for the first time, here are a few tips to help you have a successful experience:
-Be patient. Whale watching can be a slow process, so don't expect to see whales every time you go out.
-Be prepared for cold weather. The Oregon Coast can be cold and is often time windy. Most locals dress in layers, so they are prepared for whatever weather comes up.
-Bring binoculars. Binoculars will help you get a closer look at whales when they are close to shore.
-The best time to see the whales is June through September. This is when the resident gray whales return to the Oregon Coast.
-Check the sightings. Whales are wild creatures, and whale watching is never guaranteed. Check on the latest sightings to see when the most recent sighting was.
– Get updated daily whale sightings at this website: .
Best Spots
At Depot Bay, you will find a plethora of ways to see and learn about the whales.
Here is a list of a few:
OPRD Whale Watching Center
Whale's Tail Charters
Whale Research EcoExcursions
Whale Sealife and Shark Museum
Dockside Charters and Whale Watching Tours
Tradewinds Charters
OPRD Whale Watching Center:
The Oregon Parks and Recreation Department's Whale Watching Center is located in Depoe Bay.
The center offers stunning views of the Pacific Ocean and a variety of educational opportunities for visitors.
The staff is ready to answer your questions and help you spot Whales and marine life.
You will find binoculars and displays with all sorts of facts about whales.
Guests can learn about the local whale population and the importance of whale watching in helping to protect these magnificent animals.
The center also offers a variety of fun activities for kids, making it the perfect place to bring the family for a day of learning and adventure.
With its breathtaking views and wealth of educational resources, the Whale Watching Center is a must-see for anyone visiting the Oregon Coast.
Before heading out to the Whale Watching Center, check their website to make sure they are open.
Whale's Tail Charters:
Hop on board the Whale's Tail Charters to discover some fantastic sites.
The company offers tours of the Pacific Northwest coastline, where visitors can see whales, seals, and other marine life.
Whale's Tail Charters is committed to responsible whale watching, and all the company's guides are trained in safe and respectful whale watching practices.
The company's boats are also equipped with the latest whale tracking technology so that guests can be sure to see whales up close.
For a $10.00 difference, you can choose to go on 1 hour or 1 ½ hours whale watching tour.
The tours start at 10 a.m., 12 p.m., and 2 p.m.
Make sure to get there early to pick your seats and make sure you are ready to go.
So, whether you are looking to see whales or enjoy a day on the water, Whale's Tail Charters has something for you.
Whale Research EcoExcursions
The Whale Research EcoExcursions is a great way to see the whales for free.
If you volunteer and work a four-hour shift once a week with them, they will compensate you with a free whale watching trip. You can learn more about this opportunity at .
The company offers a few different tour options for whale watching.
The first option is a private whale watching trip with one of their Marine Biologists.
They offer 2 different sized zodiac boats.
The first size has a limit of 6 people and can be booked at their website.
The second-sized zodiac can sit 7 to 13 people. To book this zodiac, you need to call them at 541-912-6734.
The second tour option is a 1 ½ hour whale-watching trip.
This boat can sit up to 13 people online.
If you have more than 13, you can call them to book a custom trip.
Their website mentions that ocean conditions are better early in the day.
You can find the trip times and prices on their website.
Whale Sealife and Shark Museum
The Whale Sealife and Shark Museum in Depoe Bay is one of the most unique museums in the world.
The museum is dedicated to studying and conserving whales, sea life, and sharks.
Visitors can learn about the different types of whales, sea whale skeletons up close, and even touch a real shark!
The museum also has a wide variety of interactive exhibits, making it an excellent place for adults and children to learn about these fantastic creatures.
Whether you're a whale enthusiast or just curious about these fascinating animals, the Whale Sealife and Shark Museum is worth visiting.
Dockside Charters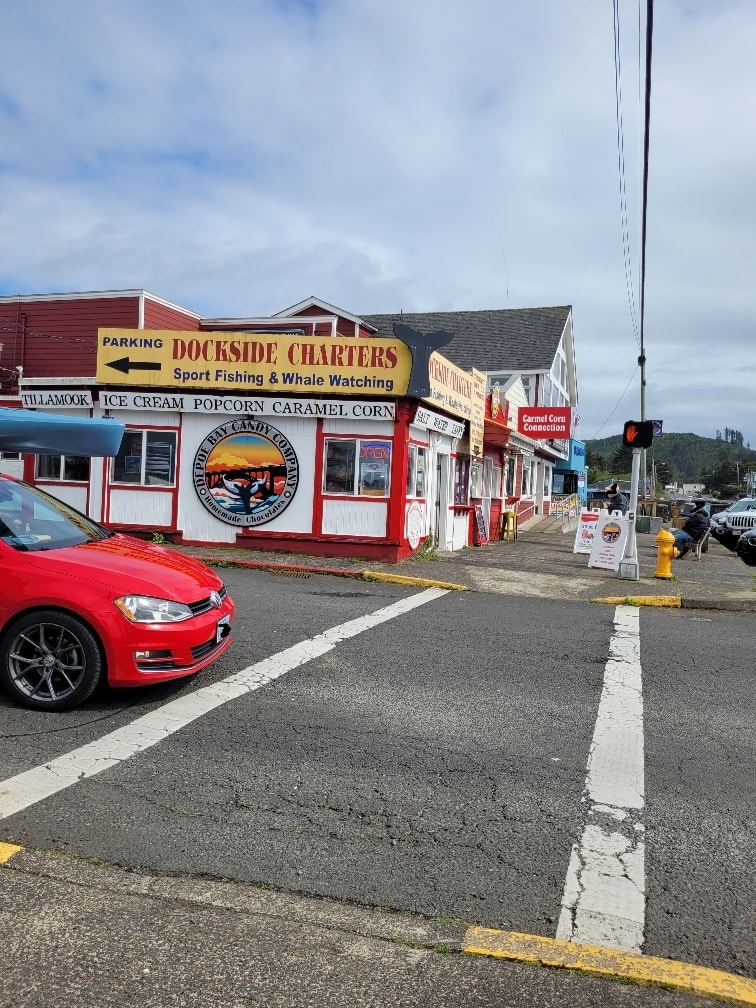 See the majestic creatures of the sea up close with Dockside Charters' whale-watching cruises.
Starting in December, they offer 1 ½ hour cruises to give you the best chance of seeing whales during migration season.
When whales are more plentiful in the springtime, they offer 1-hour cruises.
All their boats have elevated decks for easier sight viewing and inside cabins and on deck, seating to accommodate all preferences.
Plus, their cruising guide will ensure you are well informed of the marine life around you.
So come aboard and explore the wonders of the ocean with Dockside Charters.
You can find information about their cruises and trips.
Tradewinds Charters
Tradewinds Charters offers numerous amounts of fishing and tours to whale watch.
Their tours go out multiple times daily.
While Tradewinds Charters does focus more on fishing trips, you can still experience a great whale watching tour with them.
Their boats offer covered seating as well as on-deck seating.
Whale Watch in Depoe Bay
Whether you're a first-timer or an experienced whale watcher, Depoe Bay is the place to be.
With its convenient location and variety of viewing spots, you can get up close and personal with these gentle giants without ever having to leave the shore.
So what are you waiting for?
Plan your next Oregon vacation in Depoe Bay and experience the magic of whale watching firsthand.
Let us help you plan and book your dream vacation: