Top 5 Family-Friendly Beaches in Newport, Oregon
If you are looking for a fantastic family vacation, then you are in the right place. Oregon is one of the best states to visit with your family because it has many wonderful activities and sights that are tailored for that family-friendly environment.
Newport has a wealth of historical significance and continues to expand and change in keeping with this legacy.
You can eat and see things at any price point and preference. Newport offers hikes and kayaking, camping, and rock climbing; there is something for everyone.
When you visit Oregon, be sure to check out these six family-friendly beaches in Newport, Oregon, that is perfect if you want to spend some quality time together while you're away from home.
To learn more about Newport's most family-friendly beaches, look no further than this helpful guide.
Guide to Family-Friendly Beach Going Experiences
Newport is a beautiful coastal town in Oregon that is perfect for a family getaway. The city is home to many beautiful beaches, which makes it a great place to relax and enjoy the incredible views.
Here are the top 5 family-friendly beaches in Newport, Oregon.
Nye Beach
Agate Beach
Beverly Beach
South Beach State Park
Yaquina Head Outstanding Natural Area
Here is a youtube video that shows some wonderful beaches near Newport.
Nye Beach Family-Friendly Activities
Nye Beach Agate Beach is one of Newport's most popular beaches due to its proximity to many restaurants and shops. The beach is also adjacent to the Yaquina Bay State Recreation Area, which offers hiking trails, picnicking areas, and playgrounds. Nye Beach is perfect for families who want to spend time exploring the great outdoors.
Here are some of the best things to do at Nye Beach
Build A Sand Castle
One of the classic beach activities–building a sandcastle–is a great way to spend some quality time with your family. And at Nye Beach, there are plenty of shells and rocks to decorate your sandcastle with. If you need some inspiration, plenty of sandcastle-building books are available at the nearby gift shop.
Be aware: there is a constant pacific wind, so make sure to dress warmly when you are on the beach. 
Beach-Combing
Nye Beach is a popular spot for Beach-combing. Visitors can find all sorts of treasures, from agates and driftwood to shells and seaweed. When you take the family, you can play "I Spy" to see how many items you can find.
Bike Riding
The best way to experience the natural beauty of Nye Beach is on two wheels. Pedaling along the coast, you will get up close and personal with the crashing waves and towering cliffs. Stop to smell the salt in the air and listen to the sound of waves crashing onto the rocks. 
There are plenty of shops near Nye Beach where you can rent a bike made specifically for the sand. These bikes have larger wheels than standard bikes, so you can easily traverse the sand without sinking.
Agate Beach Family-Friendly Activities
Agate Beach is a beautiful Oregon beach that offers visitors many activities such as razor clamming and surfing.
Razor Clamming
For those that have never been razor clamming, it may seem like a strange way to spend an afternoon. However, there is something strangely satisfying about wading through the knee-high–if not waist-high–mud feeling the squish of the mud and sand between your toes and holding your breath I anticipation as you wait for a clam to appear. 
The best time to go razor clamming is during low tide when the clams are exposed. To find them, look for small holes in the sand. Once you find a clam, use a clam knife or shovel to dig it up.
When you finally catch one, the feeling of triumph is impossible to describe. Razor clamming is a great way to get outside and make memories that the entire family will love to describe to their friends for a long time to come.
Surfing
Surfing is another popular activity at Agate Beach. The waves here are some of the best and safest in Oregon. They attract surfers from all over the state.
Beginners should head to the north end of the beach, where the waves are smaller. While experienced surfers can find bigger waves farther south. 
No matter what your skill level, Agate Beach is a great place to enjoy the waves. 
Beverly Beach Family-Friendly Activities
Beverly Beach is a secluded beach that is located just north of Newport. The beach is known for its dramatic cliffs, making it a popular fishing spot and whale watching site. Beverly Beach is perfect for families who want to spend time enjoying the peace and quiet of nature.
Camping
One of the most famous campgrounds is located at Beverly Beach. There are just over 250 campsites in this busy park. Water and electricity are available at 53 of the sites, as are 125 tent camping sites. There are also 53 RV camping spots. Some of them even have cable TV hookups.
The Best Place for Lunch
When you visit Newport, Oregon, there is no better place to stop and have lunch than Beverly Beach. With its many picnic tables and wide lawn area, Beverly Beach is the perfect spot to enjoy a meal with friends and family. And, if you need to use the restroom, you will be glad to know that Beverly Beach has public restrooms that are well cared for and open most of the year.
South Beach State Park Family-Friendly Activities
South Beach State Park is a large state park that offers miles of hiking trails, sand dunes, and picnic areas. The park also has an interpretive center that offers educational programs about the local environment. South Beach State Park is perfect for families who want to spend time learning about the natural world around them.
Surfing, Sunbathing, and Picnicking, Oh My!
South Beach State Park is the perfect destination for the surf-loving family and beach lovers alike. The long stretch of sandy beach offers plenty of room for surfing, sunbathing, and picnicking.
Visitors can also enjoy fishing, boating, and hiking in the park. The diverse activities and family-friendly activities available make South Beach State park a great place to visit for a day, a weekend, or even longer.
Pura Vida Surf Shop
Pura Vida Surf Shop is a great place to pick up gear before heading out to the waves. The shop offers a wide range of equipment, including boards, wetsuits, and accessories. Pura Vida also offers lessons for beginners who want to learn how to surf.
While you are there, don't forget to stop by and pick up some sweets at Cliffside Coffee Sweets. Whether you are in the mood for a fresh-baked pastry or a steaming cup of coffee, Cliffside is the perfect spot to relax and enjoy the view.
Thanks to its prime location overlooking the Pacific Ocean, Cliffside is also one of the best places in town to watch the sunset.
Year-Round Camping
South Beach State Park is a beautiful place to camp all year round. With 227 electrical sites, 60 tent sites, and 27 yurts, there is a place your family will enjoy staying. 
The hiker/biker camp is a great option for those who want to explore the park on foot or by bike. The Universal Access campsites are perfect for those with disabilities.
Flush toilets and showers are available, and firewood is for sale at the campground stores. RV campers will appreciate the dump station. All campers can bring one additional vehicle per site.
Yaquina Head Outstanding Natural Area Family-Friendly Activities
Yaquina Head Outstanding Natural Area is a beautiful state park that offers majestic views of the Pacific Ocean. The park is also home to many wildlife species, including seals, sea lions, and bald eagles.
Yaquina Head Outstanding Natural Area is perfect for families who want to spend time observing wildlife in their natural habitat.
Interpretive Center
The Yaquina Head Interpretive Center is the perfect place to learn about the rich history of this protected beach area. The Center offers a variety of interactive exhibits that are sure to amaze the entire family.
From learning about the area's geological history to discovering the native plants and animals that call this place home, there is something for everyone at the Yaquina Head Interpretive Center.
In addition to the exhibits, the Center also offers a variety of educational programs that are perfect for both kids and adults.
Lighthouse
The Yaquina Bay Lighthouse is a historic landmark in Newport, Oregon. The lighthouse is open for tours; visitors can learn about its history and see the breathtaking views from the top.
The path that winds around the lighthouse is wheelchair accessible. However, be aware that every person must be able to walk up the more than 100 stairs inside the lighthouse to take the tour.
Those who are unable to walk up the stairs can still enjoy the views from the ground level.
Rocky Beach and Tide Pools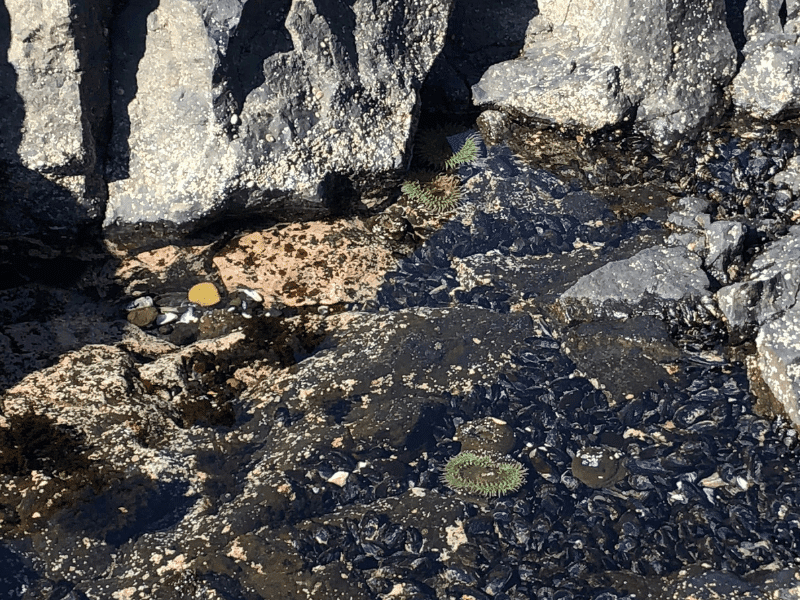 Yaquina Head is a rocky beach, which means that the entire beach is made up of rocks instead of sand. Traversing over these rocks makes for some fun, family-friendly stories as you try to carefully climb down the small rocks.
Kids can explore the tide pools and look for crabs, starfish, and other sea creatures.
Adults can enjoy a leisurely walk along the rocky shoreline or enjoy stunning ocean views.
Do not forget to keep an eye out for sea lions that can often be seen during your adventures here.
Ready For Your Next Adventure
With all of these great beaches to choose from, it can be hard to know which one is the best for your family.
Hopefully, this list will help you narrow your choices and make planning your vacation easier.
We wish you all a wonderful time at the beach! Are there any other family-friendly beaches in Newport that we missed? Let us know in the comments below.
Looking for more activities to do in Newport? Learn about the best whale-watching places in this great city.